About
The Upper Clarity School of Stone Medicine
This is a school with ancient and sacred information on stones and crystals
Like a crystal held up to the light and turned facet by facet, many Masters have encoded this body of knowledge with their own unique discoveries.

Originally materialized by the Wu of ancient China and then carried forward by Master teachers throughout time, the great legacy of stone medicine is still alive today. The Upper Clarity School of Stone Medicine is an invitation for you to enter this flow, bringing your unique consciousness to this evolving wisdom.
The school is named in honor of Lady Wei, who originally birthed the Shang Qing tradition out of China via her own direct revelations. The name is a genuflection to her devotion and the powerful consciousness that rippled out from her inner work. 
Upper Clarity means Great Clarity, which means the highest and clearest realms of Tian (Heaven). Lady Wei's revelations were received from the Great Clarity.
 Sarah Thomas, the founder and lead instructor of Upper Clarity, is simply a longtime grateful student of these teachings through Jeffrey C. Yuen. You can read more about this on the About Sarah page.
 Since 2009, The Upper Clarity School of Stone Medicine and hundreds of students from around the world have absorbed the living teachings, imprinted them with their own unique revelations, and continue to carry them forward.
The students of this school are ushering in a new wave of crystal consciousness. We are acupuncturists, herbalists, ceremonialists, healers, energy workers. We are Earth-workers, Seers, shaman, and everyday household stone lovers. All others who honor the Earth are invited to meet these teachings and the enduring spirit that carries them through time.
Joining the flow is as easy as tuning into the learning experience that feels right for you and getting started. Welcome.
View the Classes
Enter the Cave changed my life. The stones became alive in me and I felt like I was remembering something I had once known and loved. I never would have believed that an online course could be so transformative.
- Jane
I was literally blown away with the learning and the way I was able to assimilate it. Infectious and motivational, and a vast array of knowledge, all the way through.. Holding space for this and allowing the principles to create miracles was priceless. Brilliant, amazing and as always such an honor to be guided back home by you Sarah.
- Ivana
I'm beginning to feel a growing flame of purpose and direction that has too long been dormant. I'm really appreciating your skill, wisdom, and experience. It's very grounding. Thank you for these incredible teachings.
- F. F.
About
Your Instructor, Sarah
Sarah Thomas, MAc, LAc
quietly founded The Upper Clarity School of Stone Medicine in 2009 among small groups of students meeting in little healing centers. Sarah is a healer, acupuncturist and educator and is immersed in the clinical and academic experience of ancient stone medicine and future crystal technologies.

Sarah's been honored and blessed to stand on the front lines as a soul healer, sharing treatments day in and day out, with some beautiful souls for almost twenty years now.
Sarah (whose secret name is Starwolf) is the lead instructor at the Upper Clarity School, teaches at Earth medicine conferences all over the U.S., founded North Carolina's first mineral studies program for healers, and guides hundreds of students from all over the world in stone medicine certification trainings.
Sarah's Dao is to resurrect the vast and uncharted potential of healing and awakening with stones.
Sarah's teachers include Jeffrey C. Yuen, 88th generation priest of the Jade Purity Lineage. Sarah has studied stone medicine and Chinese medicine with Jeffrey since sitting in a year-long immersion in New York City in 2008. Many many hours and weekends and notebook after notebook have been received and (mostly!) integrated since then. For those of you who have studied stone medicine, you know it's a lot of information.
Sarah is also mentored by Marna Whaleheart of the Andean Mysticism lineages and Jyoti Ma and the many teachers of the Old Ways teachers Jyoti carries and represents. Sarah also studies deeply with an Indian Avatar teacher for almost 20 years now.
The foundation of stone medicine knowledge has been given to us by the Daoist traditions, and the wisdom and activations we ultimately orient towards are seeded by all paths mentioned herein.
Sarah is a student, a teacher, and a healer. These 3 experiences in action seem to really support students in learning stone medicine. All of the lineages and paths we learn from are ultimately intended to activate our own inner truth.
What It's Like to Work with Sarah
I've never been so impressed and moved by any teacher in my life.
- student at the Midwest Herbal Conference
I am floored. So amazing to have a very scientifically capable teacher capture all of us who hold on so tightly to logic and help launch us into experiential, intuitive, heart-centered truth.
- student at the Southeast Herbal Conference
Brilliant. Grounded information and the keys to growing our understanding of stone medicine and crystal healing.
- student at the Midwest Herbal Conference
About
Clarity Crystal Shop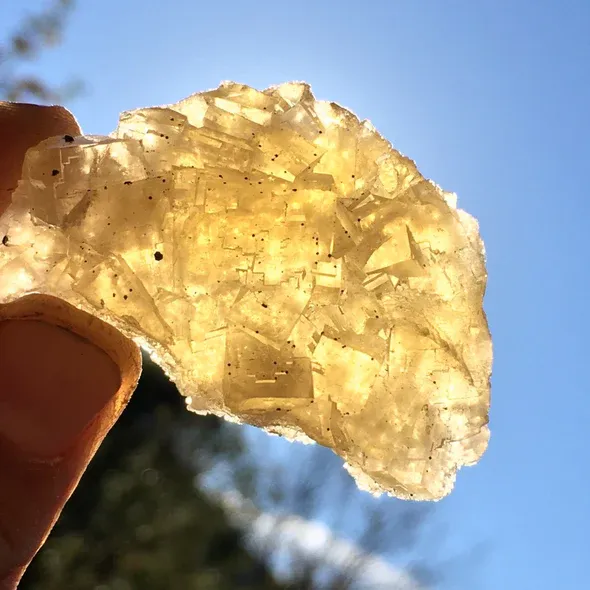 After many years of teaching,
we learned that our students would become as obsessed as we are about each stone.
They would ask me where they could get every stone we used as a demo in class.
So I started to buy a whole flat when I would purchase stones and sell them to my students in class. These would sell out so fast. Over the past ten years, we have become more and more conscious about offering stones. From harvesting practices to heat-treatments, we came to really know this global market.
We made long-term relationships and connections with families, rockhounders and other conscious suppliers.
We learned what students really need in order to create results in their healing, ritual and alchemy practices.
Still sourced in the desire to make powerful, ethical, and natural stones accessible to students, The Clarity Crystal Shop lives on today.
Visit the Shop
This course expanded my consciousness in a profound way. I am now using sacred geometry in my work and building relationships with my healing stones. This is ancient and rare knowledge and you can not find it on the internet! Right up my alley.
- C.M.
I will never be the same. This training and healing protocol has opened my heart more fully to the oneness that we are. I'm seeing evidence in the "coincidences" that are happening quite regularly now.
- Debbie
I just started this course and it is mind-blowing! It is taking me to the next level of healing Self and others. The potentials for Soul Healing are enormous, sacred, and humbling. I am so grateful and so looking forward to this new chapter.
- Andrea